ASUS RT-AC5300 Tri-band wireless-AC5300 router
Equipped with the latest 4x4 802.11ac MU-MIMO technology backed by ASUS-exclusive AiProtection powered by Trend Micro™, the RT-AC5300 delivers speed you crave and security you need. The combined data rate of 3167 Mbps with up to 5,000 sq. ft. of coverage and tri-band Smart Connect ensure fast, stable connectivity for all your Wi-Fi devices.
Tri-band (dual 5 GHz, single 2.4 GHz) with the latest 802.11ac 4x4 technology for maximum throughput (5334 Mbps) and coverage (up to 5,000 sq. ft.)
MU-MIMO technology enables multiple compatible clients to connect at each client's respective maximum speed
Built-in access to WTFast Gamers Private Network (GPN™) of route-optimized servers ensures low, stable ping times for gaming
AiProtection Powered by Trend Micro™ provides multi-stage protection from vulnerability detection to protecting sensitive data
ASUS Smart Connect delivers consistent bandwidth by dynamically switching devices between 2.4 and 5 GHz bands based on speed, load and signal strength
NitroQAM™ technology –Seamless Experience
Whether you're gaming online in a heated competition or streaming a live event in 4K/UHD, lag and buffering are simply not an option. NitroQAM™ (1024-QAM) technology on the RT-AC5300 delivers a combined 5330 Mbps Wi-Fi speed, ensuring everyone on your network can enjoy smooth streaming and low-latency online gaming.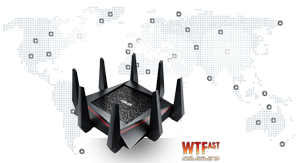 Free GPN™ Game Accelerator Inside
Ping time and variance are critical technical parameters that affect responsiveness in online gaming, and their values depend heavily on the route game packets take to and from their destination. The Gamers Private Network (GPN™) powered by WTFast automatically performs route optimization, choosing the most efficient route for game packets, resulting in consistently-lower ping time and minimal packet loss. With RT-AC5300, you can enjoy this optimization on virtually every MMO for free.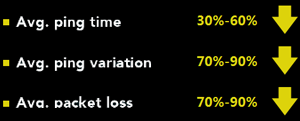 Adaptive QoS – Prioritize Your Game
Boost your gaming bandwidth with Adaptive QoS (Quality of Service), which allows you to easily prioritize gaming packets and activities. You can even assign full dedicated bandwidth while gaming under gamer solo mode, making RT-AC5300 the perfect ally for low latency gaming anywhere in your home.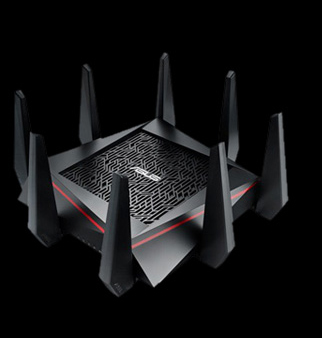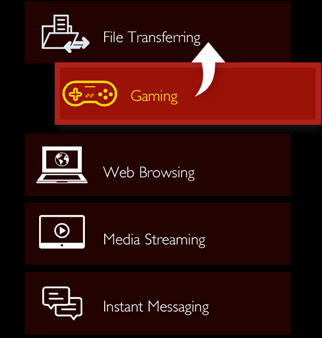 Cross-Platform Compatibility
Network speed impacts every device you game with on every platform you game on. The ASUS RT-AC5300 delivers bandwidth and coverage for all your gaming devices, from consoles to PCs to mobile devices, and supports every operating system, including Windows®3, Mac OS®4 and Linux®5.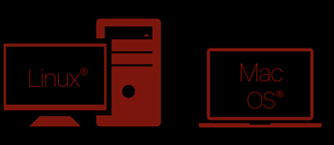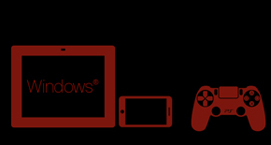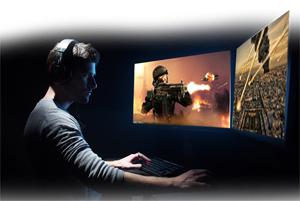 Free up PC system 'Resources' during gameplay
Networking is only half the equation when it comes to game performance. Anti-virus programs and 3rd party applications can consume valuable CPU and memory that could be reallocated to your game. With AiProtection on the RT-AC5300 you can confidently turn off these utilities while you game, ensuring every available drop of resource is spent enhancing your game.
Everywhere Entertainment in Your Smart Home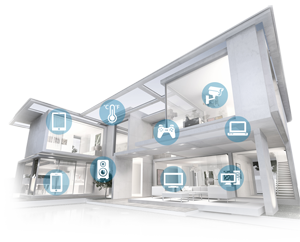 Bandwidth for All
RT-AC5300 is the master of entertaining, able to support as many devices as people you invite over and can even maintain multiple simultaneous Full HD 1080P streams. Beyond content consumption, the RT-AC5300 enables a smarter home, supporting IP cameras, thermostats and a variety of devices you don't even own yet.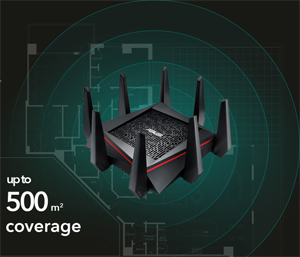 Unbeatable Coverage
With a four-transmit, four-receive (4T4R) antenna design, both Wi-Fi range and signal stability improve dramatically, able to reach our widest-ever coverage up to 500m2 (5400 ft2)1. AiRadar beamforming further focuses Wi-Fi signal on your devices, making your Wi-Fi faster, clearer and stronger.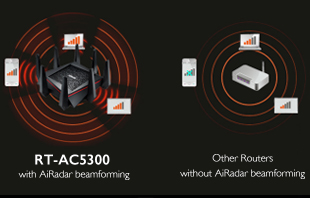 More Bands Means more Devices
Having an ASUS RT-AC5300 is like having three wireless routers in one. the two separate 5 GHz wireless bands – each with speeds up to 2167 mbps—and the single 1000 Mbps 2.4GHz wireless band all work simultaneously. This means you can enjoy lag-free online gaming smooth 4k video streaming and uninterrupted file downloading on every device connected to your home network.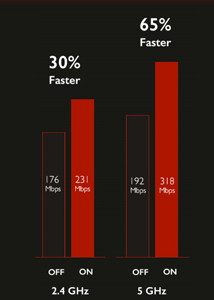 Airtime Fairness – Streamline Your Wi-Fi
Older devices slow down your network, and if connected to a standard Wi-Fi router. Your Wi-Fi connection is limited to the speed of the slowest device on your network. With Airtime Fairness, your fast devices transmit at the highest speed. Airtime Fairness technology on the RT-AC5300 improves the speed of fast devices by up to 65%6 in a multi-device household net-work by simply adjusting the communication time fairly.
Powerful Processor, Faster Transfers
RT-AC5300's top-of-the-line 1.4 GHz dual-core processor brings its computational capability to the next level. USB data transfers enjoy up to over 100 MB/s speed and the router download/upload speed (WAN-LAN throughput) up to 1800 Mbps.
8X Capacity Wi-Fi with Revolutionary MU-MIMO Technology
MU-MIMO gives every compatible device8 its own dedicated full-speed Wi-Fi connection, so that multiple devices can connect at the same time without slowing down the network. In fact, RT-AC5300 is able to connect to multiple MU-MIMO-compatible clients at each device's maximum speed simultaneously, unlike standard single-user MIMO where individual devices have to wait for sequential transmissions.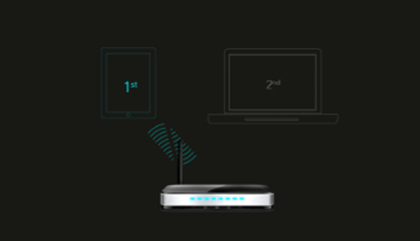 Single-user MIMO
Serve one device at a time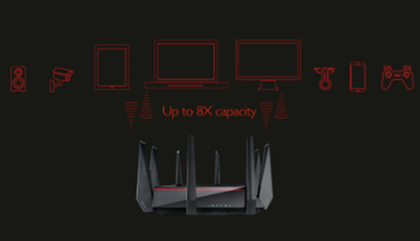 Multi-user MIMO
Serve multi-device at a time
AiProtection – Your Digital Playground is Safe
ASUS AiProtection powered by Trend Micro™ ensures your online experience is safe and secure. By combining automatic vulnerability detection, malicious site blocking and parental controls, AiProtection keeps everyone safe and sound.
Monitor and restrict internet activity for any user
Advanced parental controls help you to prevent users from visiting inappropriate websites, for example keeping young children safe from viewing adult content. You can also restrict the times that each device or guest account can access the internet, by applying scheduled time limits.
Your Digital Home Hub and Network Center
Expansive Connectivity Options
With 4 Gigabit LAN ports on RT-AC5300, you can connect yup to four Ethernet compatible devices simultaneously. Non-Wi-Fi devices like your Smart TVs, game consoles, set-top boxes, media players, NAS strage devices and more in your home now can have their own exclusive dedicated ports. Making RT-AC5300 your digital home hub.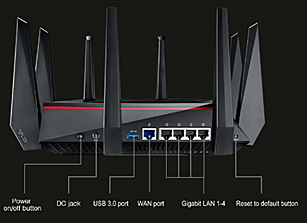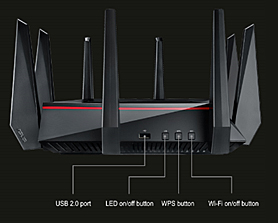 Link Aggregation, More Devices Go Faster!
RT-AC5300 features Link Aggregation, which combines two teaming LAN ports (the 1st and 2nd port) into one superfast wired connection for up to 2 Gbps using two Gigabit Ethernet cables. With Link Aggregation enabled on your NAS, clients can unlock unprecedented transfer speeds.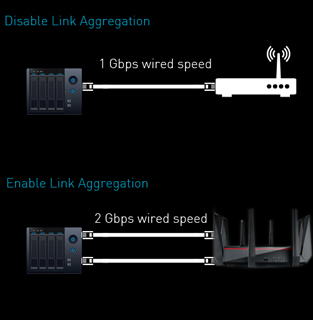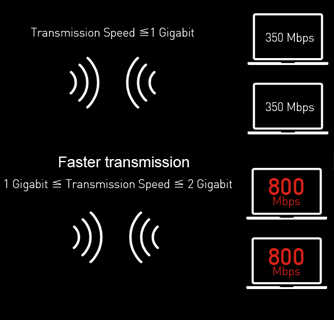 Disclaimers:


Nuestra empresa requiere que usted esté en conocimiento de las políticas de venta, servicio técnico y validez de garantía para armado de equipos, partes y piezas, test, configuraciones, manejo y precauciones de los procesadores OEM.



Todas las garantías se centralizan en el Servicio Técnico ubicado en Av. Salvador Nº 465 Providencia, teléfono 2236750. El horario de atención es solamente de Lunes a Viernes de 10:00 a 13:00 y 14:00 a 17:00 hrs.

Es de responsabilidad exclusiva del cliente presentar la boleta y/o factura de venta, más la presente póliza firmada, asimismo, deberá conservar todas las cajas de embalaje originales, para cualquier tipo de cambio, de lo contrario el producto no podrá ser recibido.

Todos los productos recibidos por garantía deben ser revisados por el Servicio Técnico.

El diagnóstico de un equipo, recibido por garantía, se entrega en un plazo mínimo de 48 hrs.

El diagnóstico de partes y piezas, recibidas por garantía, se entregará en un plazo mínimo de 24 hrs.
Como dato anexo, todos los productos que T Y T Chile SPA pone a su disposición no son abiertos en ningún momento (excepto productos OEM, OpenBOX, y aquellos que se señalen en la tienda). En otras palabras, TTChile vende productos sellados y tal como los recibe del fabricante(s) y/o proveedor(es), así evitando su modificación y asegurando máxima confiabilidad al cliente.
6.-La empresa T Y TCHILE SPA. , no se hace responsable por daños, robos o pérdidas parciales o totales de la carga durante el transporte de la carga hasta el destinatario por lo que el cliente debe escoger la empresa de encomiendas que le de mayor confianza.
TT Chile dispone de un departamento de servicio Técnico especializado en las tecnologías actuales, este atiende de lunes a viernes en los siguientes horarios:
Mañanas: 10:00 a 13:00 horas.
Tardes: 14:00 a 17:00 horas.
Además de velar por una correcta y oportuna atención a nuestros clientes, nuestro servicio técnico ofrece los siguientes servicios:
Instalación de sistema de agua (WaterCooling) $ 30.000.-
Armado Equipo completo MID TOWER $ 15.000.-
Armado Equipo completo FULL TOWER $ 20.000.-
Instalación de Sistemas Operativos y Software* $ 20.000.-
* La instalación no contempla la licencia del software a instalar, por lo que el cliente debe facilitarla.
Si el equipo esta dentro de las causales de garantía el cobro de reparación es cero, independiente del tiempo empleado.
Si la falla o desperfecto que presente el producto es de responsabilidad del cliente se cobrarán los siguientes valores:rn
Revisión e instalación por pieza sin desmontar gabinete $ 5.000.-
Revisión e instalación por pieza desmontando gabinete $ 10.000.-
1.- Realizar un depósito o transferencia en una de nuestras Cuentas Corrientes:
BANCO SANTANDER N° 03-71884-0,en efectivo a nombre de MARCO TRONCOSO
BANCO SANTANDER N° 73237238 , en efectivo a nombre de TYT CHILE SPA
BANCO ESTADO CHEQUERA ELECTRONICA N° ,

211-7-003855-7

en efectivo a nombre de MARCO TRONCOSO
2.- Enviar al correo electrónico de
adolfotytchile@gmail.com
Fotocopia / Escaneo del comprobante de depósito
Detalle del (los) artículo(s) que se está(n) comprando
3.- Indicar si es factura o boleta:
Factura:

Fotocopia RUT de la empresa
Giro
Dirección
Nombre
Teléfono



Boleta:

Nombre del cliente
Teléfono de Red fija
Dirección y Ciudad
4.- Tipo de envío
TUR-BUS por pagar a domicilio ó a sucursal.

La empresa T Y T CHILE SPA , no se hace responsable por daños, robos o pérdidas parciales o totales de la carga durante el transporte de la carga hasta el destinatario por lo que el cliente debe escoger la empresa de encomiendas que le de mayor confianza.