---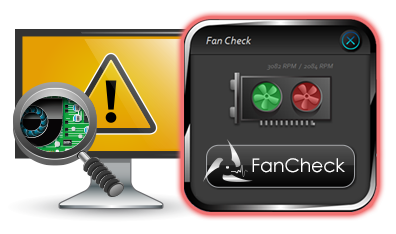 Fan Check
With NITRO+ models, SAPPHIRE has upped the stakes with its new Fan Check, which allows users to check the cooler's status via SAPPHIRE TriXX 3.0 software, and contact customer support in case of problems.
---
NITRO Quick Connect
SAPPHIRE's Quick Connect System provides a quick and easy solution. If there's a fan issue detected, the user doesn't need to return the entire card – SAPPHIRE's partners will send out a replacement fan directly to the customer or the retailer. Please contact your place of purchase to request a fan replacement. SAPPHIRE's channel partner will arrange the ideal solution for you to receive your replacement fan.

---
NITRO CoolTech
With the SAPPHIRE NITRO Gaming Series cards' Intelligent Fan Control III, the fan starts precisely at 56 degrees Celsius to smartly balance performance against fan noise.

---
NITRO Free Flow
We looked at the traditional axial fan design system, and found that the way it circulates the hot air back to the fan inlet resulted in a higher temperature over time. With NITRO Free Flow (NFF) we redesigned the airflow of the entire cooler and board, so that the hot air is expelled through the system fan instead, rapidly dissipating heat.
---
NITRO Boost
The new NITRO Boost switch increases the boost clock and power limit for higher performance to unleash the gaming performance of the card.

Planning to overclock or looking for maximum performance? SAPPHRE NITRO cards come with an 8 pin power connector to plug in and enable Nitro Boost.
---
Dual-X Cooling
SAPPHIRE's acclaimed Dual-X Cooling is powered by two massive yet silent fans and state-of-the-art radiator design. The new form of our 95mm blades mean greater airflow and superior heatsink coverage at lower noise compared to standard cooling designs.
These feature dual ball bearing fans, which have an 85% longer lifespan than sleeve bearings in our tests.
---
VR Friendly
The SAPPHIRE NITRO Gaming Series cards come with Dual HDMI ports, specifically designed to work with VR. By having two HDMI ports, you can have both an HD monitor and cutting-edge VR headset running at the same time.
The ports are HDMI 2.0b, the latest update, with an 18Gbps bandwidth, up to 32 audio channels, and is able to support 4K 50/60 resolutions like 2160P, whilst remaining entirely backwards compatible with older HDMI specifications.
---
Control de Tasa de cuadros por segundo
Frame Rate Target Control (FRTC) permite a los usuarios definir un número máximo de cuadros por segundo en un juego o aplicación en pantalla completa; el beneficio de utilizar FRTC es la reducción del consumo energético (ideal para juegos que logran una tasa de cuadros por segundos muy superior al que la pantalla puede mostrar) y lograr una reducción del calor generado, velocidades de los ventiladores y ruido generado por la tarjeta de video.
Frame Rate Target Control funciona no solo en escenas renderizadas 3D en los juegos, sino que también en pantallas de menú y carga, justo cuando la tasa de cuadros por segundo suele superar las centenas de FPS sin sentido. Los usuarios pueden establecer un nivel altísimo de FPS solo para evitar el desperdicio de FPS en los menús, mientras que siguen disfrutando de la calidad de imagen lograda a más de 60 FPS en los juegos.
---
DirectX® 12

DirectX® 12 is a new, "console-like" graphics API from Microsoft® that empowers game developers with more direct and obvious control of PC hardware. This direct or "explicit" control better exposes the hardware resources of AMD Radeon™ GPUs to yield higher hardware throughput and, ultimately, more performance for users. To put it simply: much more efficient hardware through smarter software! At the discretion of a game developer, this superior efficiency can be spent on higher framerates, lower latency (VR), lower power consumption, better image quality, or some calculated balance of all four. In any scenario, gamers stand to benefit greatly from choosing AMD hardware to run their favorite DirectX® 12 game.
---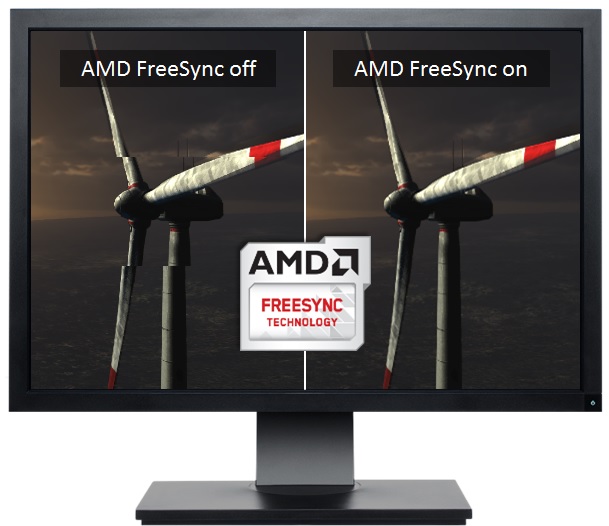 AMD Freesync technology
No stuttering. No tearing. Just gaming.
AMD FreeSync™ technology allows a compatible graphics card and monitor to dynamically change frame rates for the optimum display quality without tearing or stuay.
Industry-Standard Displayport
Freesync uses industry-standard displayport Adaptive-Sync Eliminates screen tearing without all the usual lag and latency
Synchronizes the refresh rate of a compatible monitor to the frame rate of your content, however much it varies
Monitor partners are validating with drivers from AMD now
---
Preparada para AMD XConnect
Conéctela y juegue con la tecnología XConnect de AMD.
Ahora es más fácil que nunca conectar una tarjeta gráfica Radeon™ externa. Con la tecnología XConnect™ de AMD, gráficos externos Radeon™ pueden ser fácilmente conectados y desconectados en notebooks ultrdelgadas o 2-en-1 por el puerto Thunderbolt™ 3 en cualquier momento, igual que con un pen drive USB —por primera vez con gráficos externos!
---
AMD Eyefinity Technology
Multidisplay technology for gaming, productivity and entertainment
We are taking you beyond the boundaries of traditional PC displays. AMD Eyefinity technology expands the traditional limits of desktop computing by multiplying your screen area. With multiple monitors, games become more immersive, workstations become more useful and you become more productive (an average of 42% more productive according to one study).
Take your PC games to the next level of reality and immersion. Most modern games look great on three screens, and only AMD Radeon™ graphics offer you the ability to play across five screens for an eye-popping gaming experience. Other combinations and configurations with up to six screens work too.1 Create your dream display.
---
AMD Crossfire™
Harness the power of multiple GPUs
AMD CrossFire™ technology is the ultimate multi-GPU performance gaming platform. Unlocking game-dominating power, AMD CrossFire™ harnesses the power of two or more discrete graphics cards working in parallel to dramatically improve gaming performance.1 AMD CrossFire™ technology ready graphics cards fit practically every budget. With the flexibility to combine two, three or four GPUs, AMD CrossFire™ technology is the perfect solution for those who demand extreme performance.
---
Introducing AMD LiquidVR
LiquidVR™ is an AMD initiative dedicated to making VR as comfortable and realistic as possible by creating and maintaining what's known as "presence" — a state of immersive awareness where situations, objects, or characters within the virtual world seem "real." Guided by close collaboration with key technology partners in the ecosystem, LiquidVR™ uses AMD's GPU software and hardware sub-systems to tackle the common issues and pitfalls of achieving presence, such as reducing motion-to-photon latency to less than 10 milliseconds. This is a crucial step in addressing the common discomforts, such as motion sickness, that may occur when you turn your head in a virtual world and it takes even a few milliseconds too long for a new perspective to be shown.

---
Preparada para HDR
High Dynamic Range (HDR) es la tecnología más avanzada para jugadores y cinéfilos interesados profundamente en la calidad de sus pantallas y TVs. Basada en la agudeza visual del ojo humano, HDR expande ampliamente el rango de color y contraste que permiten ser vistos en una pantalla compatible. Los juegos y las películas preparados para HDR y mostrados en una pantalla HDR compatible muestran una notable diferencia de color, más vividos y mejores contrastes y un matiz más sofisticado comparado incluso con los mejores contenidos SDR.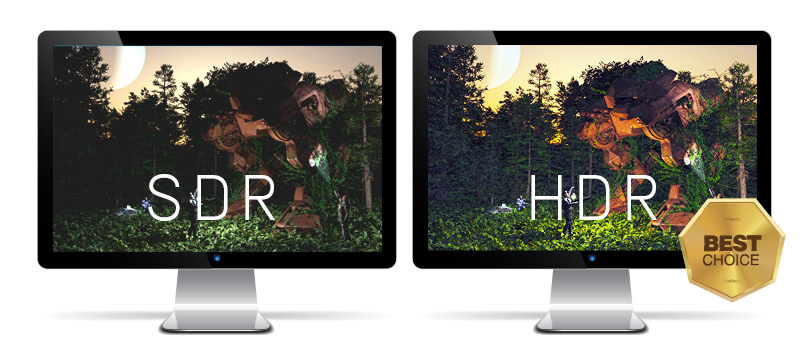 ---
Protección Eléctrica
Para proteger las placas de video, la serie SAPPHIRE NITRO+ incorporan un fusible integrado en el circuito eléctrico del conector PCI-E para mantener sua componentes a salvo.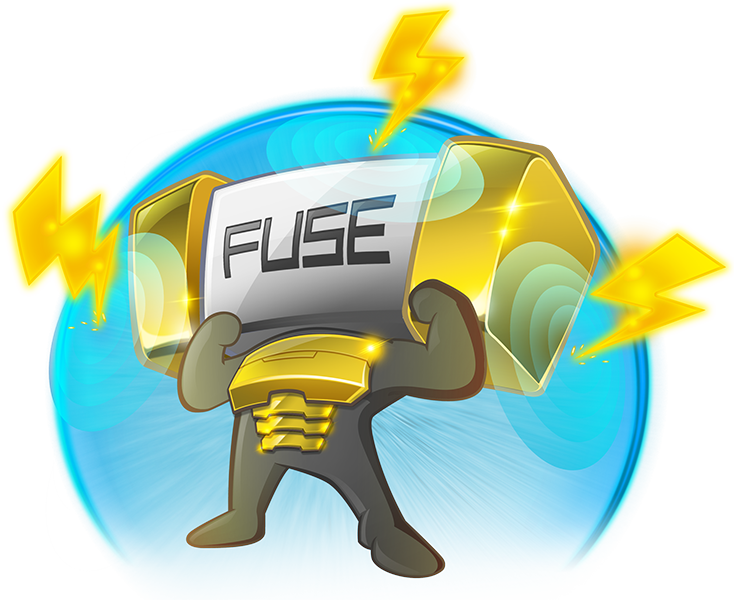 ---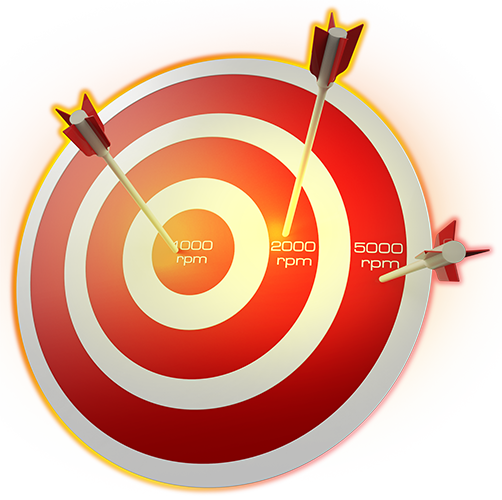 Control de Fan de Precisión
En la industria de los ventiladores existe un margen de error de hasta el 10% en la velocidad de rotación (RPM). Con el nuevo Control IC de Fan en las placas de video SAPPHIRE NITRO+, esta diferencia se reduce al 3%. Esta mejora del 70% en la precisión asegura que el rendimiento del enfriamiento y del ruido sean los óptimos.
---
Robusto enfriamiento VRM
La tarjeta de video de la serie SAPPHIRE NITRO+ fueron diseñadas con un robusto enfriamiento VRM y tienen pads de alta conductividad térmica en el backplate para llevarse el calor eficiente y efectivamente.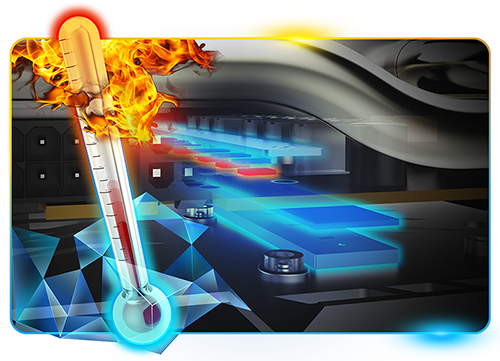 ---
Nitro Glow 2
The graphics card is more than another component; it's the beating heart of your gaming system. It should look as good as it costs. With tasteful shroud design augmented by RGB LEDs, each card is practically a piece of art. You can even change the colours of the LED, for your own customized design. This can be controlled via software using the latest version of SAPPHIRE's Award Winning Overclocking Utility – TriXX 3.0. Users can choose from a set of five different modes including Fan Speed Mode, PCB Temperature Mode or the colourful rainbow mode. If you prefer, LEDs can also be turned off.


Nuestra empresa requiere que usted esté en conocimiento de las políticas de venta, servicio técnico y validez de garantía para armado de equipos, partes y piezas, test, configuraciones, manejo y precauciones de los procesadores OEM.



Todas las garantías se centralizan en el Servicio Técnico ubicado en Av. Salvador Nº 465 Providencia, teléfono 2236750. El horario de atención es solamente de Lunes a Viernes de 10:00 a 13:00 y 14:00 a 17:00 hrs.

Es de responsabilidad exclusiva del cliente presentar la boleta y/o factura de venta, más la presente póliza firmada, asimismo, deberá conservar todas las cajas de embalaje originales, para cualquier tipo de cambio, de lo contrario el producto no podrá ser recibido.

Todos los productos recibidos por garantía deben ser revisados por el Servicio Técnico.

El diagnóstico de un equipo, recibido por garantía, se entrega en un plazo mínimo de 48 hrs.

El diagnóstico de partes y piezas, recibidas por garantía, se entregará en un plazo mínimo de 24 hrs.
Como dato anexo, todos los productos que T Y T Chile SPA pone a su disposición no son abiertos en ningún momento (excepto productos OEM, OpenBOX, y aquellos que se señalen en la tienda). En otras palabras, TTChile vende productos sellados y tal como los recibe del fabricante(s) y/o proveedor(es), así evitando su modificación y asegurando máxima confiabilidad al cliente.
6.-La empresa T Y TCHILE SPA. , no se hace responsable por daños, robos o pérdidas parciales o totales de la carga durante el transporte de la carga hasta el destinatario por lo que el cliente debe escoger la empresa de encomiendas que le de mayor confianza.
TT Chile dispone de un departamento de servicio Técnico especializado en las tecnologías actuales, este atiende de lunes a viernes en los siguientes horarios:
Mañanas: 10:00 a 13:00 horas.
Tardes: 14:00 a 17:00 horas.
Además de velar por una correcta y oportuna atención a nuestros clientes, nuestro servicio técnico ofrece los siguientes servicios:
Instalación de sistema de agua (WaterCooling) $ 30.000.-
Armado Equipo completo MID TOWER $ 15.000.-
Armado Equipo completo FULL TOWER $ 20.000.-
Instalación de Sistemas Operativos y Software* $ 20.000.-
* La instalación no contempla la licencia del software a instalar, por lo que el cliente debe facilitarla.
Si el equipo esta dentro de las causales de garantía el cobro de reparación es cero, independiente del tiempo empleado.
Si la falla o desperfecto que presente el producto es de responsabilidad del cliente se cobrarán los siguientes valores:rn
Revisión e instalación por pieza sin desmontar gabinete $ 5.000.-
Revisión e instalación por pieza desmontando gabinete $ 10.000.-
1.- Realizar un depósito o transferencia en una de nuestras Cuentas Corrientes:
BANCO SANTANDER N° 03-71884-0,en efectivo a nombre de MARCO TRONCOSO
BANCO SANTANDER N° 73237238 , en efectivo a nombre de TYT CHILE SPA
BANCO ESTADO CHEQUERA ELECTRONICA N° ,

211-7-003855-7

en efectivo a nombre de MARCO TRONCOSO
2.- Enviar al correo electrónico de lissette@ttchile.cl
Fotocopia / Escaneo del comprobante de depósito
Detalle del (los) artículo(s) que se está(n) comprando
3.- Indicar si es factura o boleta:
Factura:

Fotocopia RUT de la empresa
Giro
Dirección
Nombre
Teléfono



Boleta:

Nombre del cliente
Teléfono de Red fija
Dirección y Ciudad
4.- Tipo de envío
TUR-BUS por pagar a domicilio ó a sucursal.

La empresa T Y T CHILE SPA , no se hace responsable por daños, robos o pérdidas parciales o totales de la carga durante el transporte de la carga hasta el destinatario por lo que el cliente debe escoger la empresa de encomiendas que le de mayor confianza.